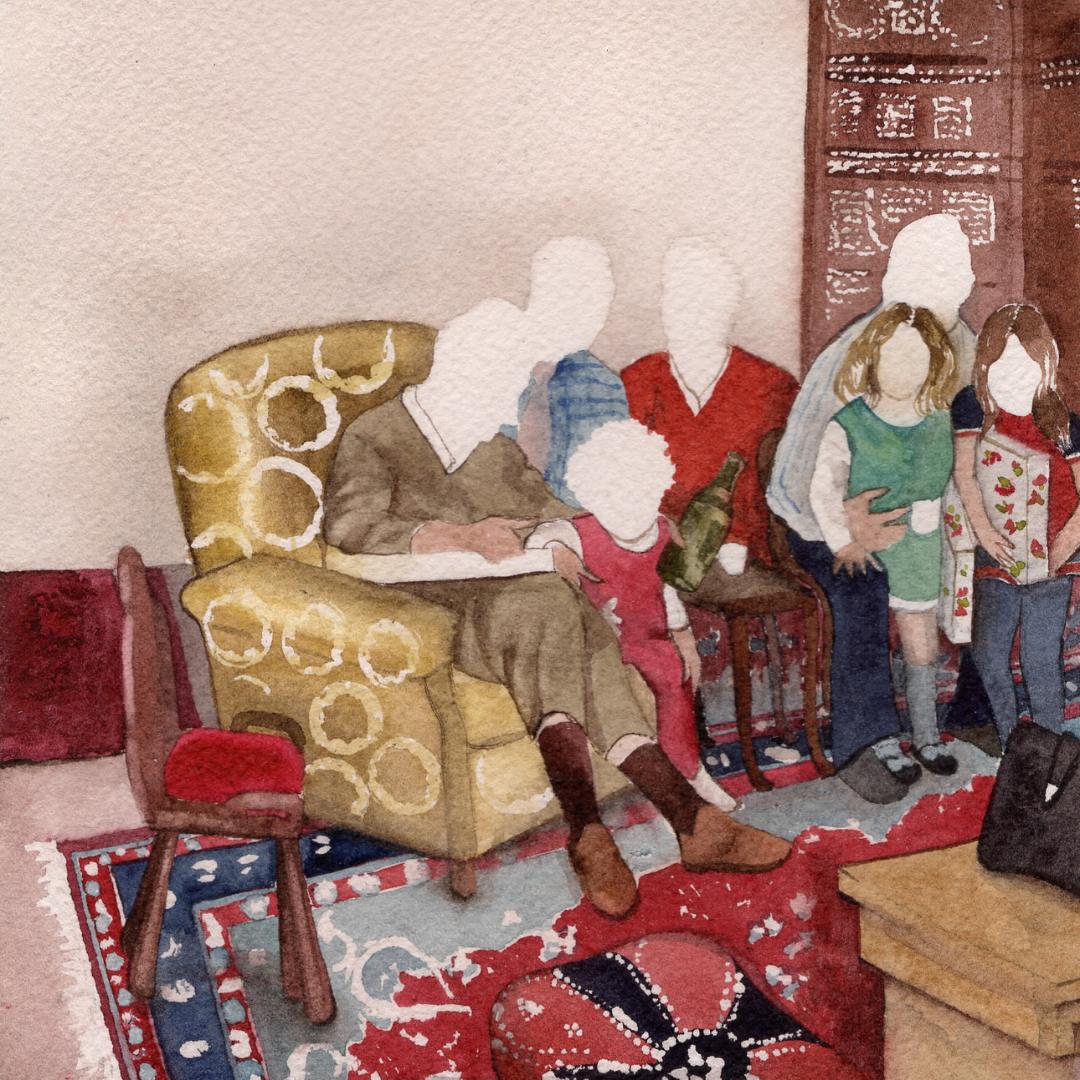 Maria Pilotto's research is configured in various branches that start from the activity of rediscovering her family's photographic archive, allowing her to relate to individual and collective memory through an aesthetic research for which the composition and color stand out greatly .

Relational art becomes the basis from which to draw for her visual imagery and the representation of the subjects of her works.

In fact, we very often find scenes of family life, special occasions and almost scenographic compositions of different figures/characters that make up the picture.

Having then worked through the donation by various people of their recipes, another privileged field of her pictorial investigation is food, especially sweets.

THE RECIPE BOOK:

The project was born during Maria's residency at MAC - Artist Studies with the idea of becoming a visual trace of the relationships that the artist has established with those who live there and/or have passed through the space.
A book is then created in which the recipes and memories entrusted to Maria are reported, thus recreating a shared recipe book.
Her favorite technique is watercolor but she also uses oil, chalcographic engraving and screen printing.


IN DETAIL
When you find yourself in front of meticulous and detailed works like those of Maria Pilotto it is super pleasant and interesting to look very carefully at the details and special elements inserted in the works that reveal a lot about the artist's personality.

In fact, we were very impressed by the truly masterful use of color and its nuances and the precision that distinguishes her works, also considering the small size of the watercolors, for example, also made in postcard format.

Her subjects are able to create a connection with the memories and experiences lived in the family of those who observe her works, leaving at the same time glimmers of autonomy and imagination by choosing not to connote the faces and leaving more undefined areas.

In fact, we find it interesting that Maria does not work according to the canons of Hyperrealism whereby the elements she paints are extraordinarily drawn and defined but always with somewhat soft outlines which help to create a special atmosphere, almost belonging to the sphere of dreams and shared memory.